About the Artist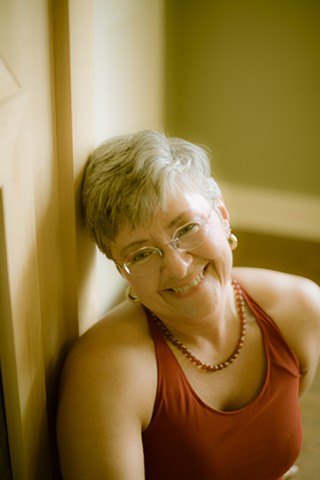 BIO
Debilynn Fendley works within cultural subgroups to produce both documentary and conceptual realism pieces in photography, printmaking, drawing, and painting. As a visual storyteller, she pushes the boundaries between fantasy and reality and strives to make work that crosses boundaries between subgroups and mainstream norms. Of her work, Steve Anchell, author of The Darkroom Cookbook and contributor to multiple major photography magazines, writes, "[H]er background as an artist working with subcultures and people living on the margin places her in the same league as the great photodocumentarians, Donna Ferrato and Susan Meiselas; perhaps even the great photographer of the dispossesed, Diane Arbus." DebiLynn holds advanced degrees in art and English and a terminal MFA in Interdisciplinary Art from Goddard College. She is a founding member of and active exhibitor with the Arkansas Society of Printmakers and holds membership in the Southern Graphics Council, Audubon Artists Society, Allied Artists of America, Professional Photographers of America, and Women in Film in Arkansas. She has been published in multiple national publications on photography, printmaking, and painting, including works from North Light Books, and recently completed her first IMBd credit as still photographer on the film Ride Hard, Live Free. DebiLynn currently serves with the Hot Springs Arts and Film Institute as an educator, exhibition curator, film judge, and festival producer.

ARTIST STATEMENT
My work comes from the premise that I can — and do — use my art as a means of social and spiritual exploration. I work with cultural subgroups, and the process of forming bonds with them and of listening to their stories and ideas is as much a part of my art as the end product. I work predominately with male models and alternative female models, and as a visual storyteller, I push the boundaries between fantasy and reality while striving to make work that crosses margins between subgroups and mainstream norms. The work I produce — prints, paintings, drawings, and photographs — is a direct result of the way the interaction with my models change me as a person. I tackle subjects like fear, depression, loneliness, and isolation head on, often thinly disguised as mythology.
I approach a blank page sometimes as a conceptual realist, sometimes as a pseudo-documentarian, but always in terms of a storyteller. Being a printmaker, I am fascinated with process and the physicality of art production…and that fascination with physicality lends itself well to my work in the field where I spend long hours as a photographer in dimly lit areas under circumstances few other photographers will dare face alone, working with populations many in the mainstream culture find frightening. I enjoy the challenge of working with people living on the margins and being able to reach out in an effort to understand their beliefs and value systems. It has proven sometimes to be dangerous but important work: embodying and symbolizing subcultures who are visually underrepresented in art in an effort to show their commonality with the mainstream that has rejected them. I bear witness to their lives because the rich and the popular already have their following.